Intriguing Women Indeed!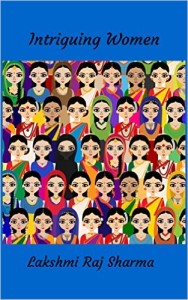 The future of Intriguing Women, my second short story collection, seems to be immense because today's women are intriguing women indeed. This story collection  deals with different women in twenty-three stories. This is the age of women because, after centuries and centuries of suppression, women are now emerging as an emancipated lot. It is their time to make their voices felt and heard. They are, by and large, no longer speaking from the margins of society. They are fast taking possession of the centre stage, often outdoing men in this endeavour. In such a phase of human history, it is but natural to bring women to the centre of fictional worlds and see how they are handling their new status.
I have written about women in such a major way because I feel that one meaning of being contemporary is foregrounding the roles of women and making people see the significance of these roles. In today's world, it has become highly necessary to try to understand what it is to be a woman, a woman who is transferring her gendered roles to an entirely new social expectation. The title of my short story collection, Intriguing Women, draws attention to this fact in two ways: (i) It points to the fact that women today are highly fascinating, worth bringing under focus in life and in fiction. (ii) But there is the other side of women, just as there are sides to men, that they can use intrigue to reach their desired goals. When they cannot get what they desire, they use other less noble methods. This happens with men in much the same way. However, when men dominated more than they do today, women had limited scope for intrigue. Today, with empowerment they have much more occasion to follow the earlier patterns of men who plotted and conspired.
Intriguing Women shows women of both categories: The smartest women handling things in a fascinating manner and women resorting to criminal ways or succumbing to their fates. A question my book seems to put to the reader is, does power corrupt women as much as it does men? Or are women handling power better?
Men have not been relegated to the background in this story collection. They are there, sometimes even making fools of women. But in this book, women are more under focus like the heroines of Shakespearean comedies. They charm, they mystify, they act rather than remaining passive, they lead, and they even intrigue. This is the picture of women in advanced societies. We no longer have Desdemonas or Sitas to talk about; we have more contemporary women. The title of the first story in the collection is, "Contemporary Woman".
https://www.amazon.com/Intriguing-Women-Lakshmi-Raj-Sharma-ebook/dp/B01CBJCUNC/ref=sr_1_1_twi_kin_2?ie=UTF8&qid=1466793815&sr=8-1&keywords=intriguing+women