Book Launch of Intriguing Women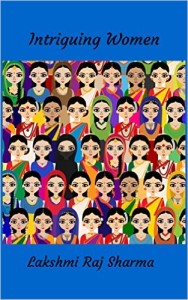 I am thrilled that at the book launch of INTRIGUING WOMEN, my second short story collection, the room was jam-packed. Several guests had to stand as the seats were already full. Those who attended came on one call on my Facebook wall. I felt flattered.
The book was released by the Head of the English Department of the University of Allahabad, Prof. R. K. Singh, instead of some bureaucrat or political bigwig who would probably have no interest in reading fiction. Prof. Singh said some very kind words about me and my earlier writings. Above everything else, four professors of the Department, Dr. Sonjoy Dutta-roy, Dr. Sarvajit Mukerji, Dr. Jaya Kapoor and Dr. Raju Parghi put a number of questions to me which I enjoyed answering. After these questions, some students and others from the audience asked me questions about Intriguing Women and my previous fiction books.
The something interesting happened. My subconscious mind seemed to have got connected to my conscious mind, just as it does when I write, and I could talk about my voice, my techniques, my current and earlier settings, subjects of fiction and matters of taste, and so many other topics on the art of writing as I have rarely done. I described to them how my books often appear to write themselves with me merely as the medium. It was great fun. The replies I gave seemed to come from another plane of my consciousness. Was it my inner voice doing all the talking? Since then, I have been receiving messages and phone calls from those present that they loved the book launch and learned a great deal from it, about the art of writing stories and novels. This event has put me on cloud nine and I am still soaring in the skies.
http://www.amazon.com/Lakshmi-Raj-Sharma/e/B0032DI2CK/ref=dp_byline_cont_book_1