Saba &Nisha, A Love Story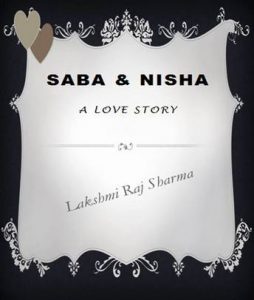 You can order this novella: SABA & NISHA  A Love Story, absolutely free, here: www.lakshmirajsharma.in
This is an Indian love story. It shows the peculiar problem of how difficult it is for an Indian man and woman to unite in marriage if they don't share their religion. It has a Hindu-Muslim theme where love crosses the barrier of religion.
This is the first time when I have written a novella. A novella is very different from both a novel and a short story. It has to move quickly towards its end. There is little place for lengthy descriptions and fictional discourses. It is a literary form in which a straightforward story matters the most. There is less showing than telling.  I have worked towards telling as much as possible. As a result, this novella is entirely different to my other works of fiction. Set in the small town, Allahabad, in the province of Uttar Pradesh, India, the novella reveals the lives of simple people and the problems that haunt them.
This is also a crime thriller of a man who was obsessed with young women. He seemed to be experimenting with sex. It shows how women can feel helpless in a world where men are intent on getting gratification from them at any cost. It is also about criminal psychology in action.
It shows the limits to which a mother can go to protect her daughter from a criminal.
It shows how literature reflects life and how it helps people to see what's good for them.
It can be ordered here:
www.lakhmirajsharma.in
This novella is the fourth work of fiction by Lakshmi Raj Sharma. His other books are: The Tailor's Needle, a novel published by Penguin, Marriages are Made in India, his first story collection published in America, and Intriguing Women, his second collection of short stories published in England.