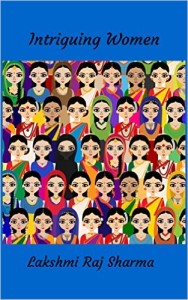 Stories, INTRIGUING WOMEN
Intriguing Women is Lakshmi Raj Sharma's third work of fiction. After the success of his debut novel The Tailor's Needle and his first book of short stories Marriages Are Made In India, Sharma now publishes a second, masterly collection of stories about women in all their infinite – and intriguing – variety. Male readers may learn something useful too…
The stories have international and Indian settings. We visit Europe, we travel to Afghanistan and we celebrate the rich variety of the Indian continent. These are women who may seem superficially normal, but might not be, and women who strive for normality at all costs. Sharma also raises questions; can a woman reconcile herself to terrorism? How do we react to a woman who kills several of her husbands? Definitions of femininity are examined and magnified through the prism of fiction.
We meet women who despite years of oppression, are smart enough to ride the 21st century successfully, while others are left behind, unable to handle the complexities of modern life. These stories report, reflect and examine the feminine nature.
What is it like to be born a woman, most particularly an Indian woman?
Intriguing stories indeed…
http://www.amazon.com/Intriguing-Women-Lakshmi-Raj-Sharma/dp/1530310768/ref=sr_1_1?ie=UTF8&qid=1463278835&sr=8-1&keywords=intriguing+women
This collection of stories is a step ahead after the author's earlier collection of stories, Marriages are Made in India. The author had given fine stories in the earlier book, which are still popular and selling. But this time, Sharma has come with a more mature vision of women caught in difficult and strange situations. Also projected here is the criminality inherent in human nature and in some women. Gone is the purely romantic story of immature lovers. This collection shows women who are no longer ignorant or innocent lovers. They are sure of what they do. This collection has received very positive reviews in the West.