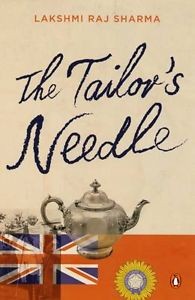 The Tailor's Needle has everything that makes a great film
I began my writing career as a dramatist. Each year I was asked to write an English play for a University Hostel (The Muir Hostel of the University of Allahabad) which I did with all my talent as that is my own hostel. My first novel, THE TAILOR'S NEEDLE, is therefore rather dramatic in parts. The Tailor's Needle has everything that makes a great film; not just a film, a great film. Readers of this novel tell me that they see everything happening before their eyes as they read through. Drama is written for viewing and so is The Tailor's Needle. It is a tale in which everything seems to be put up to be viewed in the present.
Filmmakers are yet unaware of this aspect of the novel. Even though it has sold well, all over the world, someone has to point this out to a filmmaker. A filmmaker needs to be made conscious that this novel can lend itself beautifully to the making of an epic film. A London reviewer wrote last year, that this novel has elements of War and Peace, Doctor Zhivago, Pride and Prejudice and the work of Agatha Christie:
http://winnowed.blogspot.in/2015/04/book-review-tailors-needle-by-lakshmi.html
Each of these four has produced one or more grand films. If The Tailor's Needle has these four contained within it, I think it should be the novel that would make the next great film. It has history in the background; it takes you into British India. It has a British Viceroy with a mother fixation and his grand old mother. Then it has three love stories in its vast canvas. It has adventure: people getting together to capture a dreaded Dacoit. There are scenes from the grand lives the British lived in India. These are countered by the romance in the lives of Indian Maharajas. There are sadhus and fakirs that add to the flavour of this novel.
Part II of the novel becomes a murder mystery with a psychic turn in the plot.
The novel has been popular not only because it blends humour with a tale that is in parts somewhat tragic. It has been read the world over because it has very striking characters. A tale is spun round each member of the Ranbakshi family, particularly the elder daughter, Menaka. These tales are then knitted together into a multicultural novel on a grand scale. I am confident that a film will be made on this novel; I hope this happens in my lifetime.
https://www.amazon.com/Tailors-Needle-Lakshmi-Raj-Sharma-ebook/dp/B00AO448UU/ref=sr_1_1?ie=UTF8&qid=1475949553&sr=8-1&keywords=The+Tailor%27s+Needle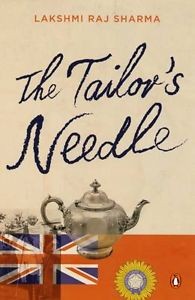 https://www.amazon.in/Tailors-Needle-Lakshmi-Raj-Sharma-ebook/dp/B00AO448UU?ie=UTF8&qid=&ref_=tmm_kin_swatch_0&sr=