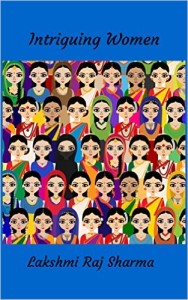 I am delighted to see two #American women's reviews of #INTRIGUING #WOMEN.  I was curious to find out how women, particularly in the West, would respond to my short stories on womankind. Of course, these stories are not exclusively about women but the spotlight is on  interesting situations in which women find themselves. I am thrilled to receive 5 stars from each.
Top Customer Reviews on Amazon.com
Format: Kindle Edition Verified Purchase
Wonderful stories of individual experiences in love, loss, and relationships, and in finding a place in a world where the expectations of others might not match one's own. The author does a great job of putting the reader in the minds of the characters, who are complex and often conflicted individuals struggling to find the right compromises in life. Very interesting book with relatable themes.
CommentWas this review helpful to you? YesNo Report abuse
Format: Paperback
What makes Intriguing Women so captivating is that the author presents an authentic depiction of women from wide-ranging backgrounds in the UK, India, Afghanistan and New York, where cultural, ethnic, religious differences and one's economic and political standing can clash, and where marriage seems to define a woman's and man's status. Yet the women in this story face a range of challenges when it comes to defining their role in a mostly patriarchal society. The multifaceted and well-developed characters are capable of making their own decisions, whether good or bad, without being influenced by society at large. Each story explores romance, lust, sex, wit, deception, manipulation, infidelity, same-sex love, domestic dispute, murder, and war. With the many twists and turns, secrets, and shocking revelations, these stories are a mirror of the world, and readers will, surely, identify with some of the characters because they could be your next-door neighbor, friend, co-worker or relative.
CommentWas this review helpful to you? YesNo Report abuse
https://www.amazon.com/Intriguing-Women-Lakshmi-Raj-Sharma-ebook/dp/B01CBJCUNC?ie=UTF8&qid=1462676221&ref_=tmm_kin_swatch_0&sr=8-1