Jhumpa Lahiri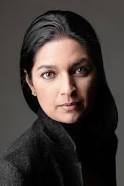 Jhumpa Lahiri's short story, "Unaccustomed Earth", is one of those masterpieces in which the story grows gradually but ultimately settles in the mind like a rock that will not be easy to remove once there. It may have one of her pet themes, in which Bengali settlers in America find themselves in changed and difficult situations in the multicultural situation, but it is not just that. It has several other strands running in and out of the main plot, which is truly masterly.
The story has been so constructed that the reader gets the impression, initially, that several characters related to Ruma, the daughter and central character in the story, will form the main body of the story. But as it moves ahead we realize that it is only she, her father and her son who will ever come into the real action of the story. The story thus has a three generational structure in which the daughter turns out to be in an almost tragic situation while her father and son are somewhat better placed in the foreign conditions. One is tempted to believe that Ruma has something of Jhumpa Lahiri in her. Just as Jhumpa married Alberto Vourvoulias-Bush, similarly Ruma has an American husband, Adam. Like Jhumpa's mother, the mother in the story wants her children to know Bengali which they cannot read and write properly.
One of the chief threads that run through the story is that Jhumpa's father has never been too involved with or close to the family. It is the mother who has been the one who took the decisions. The father does honour everything decided by her but remains rather detached with every important thing connected with the family. Ruma and her brother were naturally closer to the mother than they are with him. The story begins with the mother's death and that is the event which will bring about major changes in the lives of the father and Ruma. The father now needs to readjust in a world that seems difficult to Ruma's imaginative mind. But as the story advances it becomes evident that the father has found rather pleasant ways of beginning life anew with another Bengali woman, divorced by her husband in her early life. This woman, Mrs. Bagchi, never comes in directly into the story like Ruma's American husband, Adam also does not. It takes the entire story for Ruma to discover how well her father is adjusted after the death of her mother.
Her father has come to stay with Ruma and her son, Akash, during most of the course of the story, for a few days, to see how she and her family live in Seattle. He himself lives far away from her in Pennsylvania, across the breadth of America. He makes deliberate efforts to hide the fact that he has Mrs. Bagchi with him to bring a completeness in his life. Mrs. Bagchi has made the man much happier than his own wife could but he cannot tell his daughter this. In Ruma's house, her father is able to feel happy during this short stay and give happiness to her son, contrary to her expectations as he had never done for his own children. He can do this only because he is much happier now than when his mother lived with him and controlled him more than he had wanted her to.
Ruma's really tragic moment lies in the realization that his father did not love her mother and that she was actually dead now in her realization of this fact. She had imagined that she still lived in his loving memories. But that, she now realizes was a myth. Ruma herself seems to move towards a situation in which she would be left alone as her husband is too busy professionally and her son will grow up and leave her.