Award of Excellence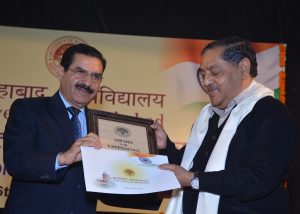 It is wonderful to get an award from the university for which you work. I felt really great when the University of Allahabad conferred the Award of Excellence upon me for my second short story collection INTRIGUING WOMEN published in 2016 from the UK by The Paris Press. The back cover of the story collection reads as follows:
"Intriguing Women is Lakshmi Raj Sharma's third work of fiction. After the success of his debut novel The Tailor's Needle and his first book of short stories Marriages Are Made In India, Sharma now publishes a second, masterly collection of stories about women in all their infinite – and intriguing – variety. Male readers may learn something useful too… The stories have international and Indian settings. We visit Europe, we travel to Afghanistan and we celebrate the rich variety of the Indian continent. These are women who may seem superficially normal, but might not be, and women who strive for normality at all costs. Sharma also raises questions; can a woman reconcile herself to terrorism? How do we react to a woman who kills several of her husbands? Definitions of femininity are examined and magnified through the prism of fiction. We meet women who despite years of oppression, are smart enough to ride the 21st century successfully, while others are left behind, unable to handle the complexities of modern life. These stories report, reflect and examine the feminine nature. What is it like to be born a woman, most particularly an Indian woman? Intriguing stories indeed…"
Awards are what lead to a great number of purchases. And awards are what authors want. But Lord Krishna says that one should just work without thinking of awards or results. Man finds it difficult to live up to the expectation of Gods. I still hope to get some more awards for this story collection. Of course, awards are more a matter of luck than anything else.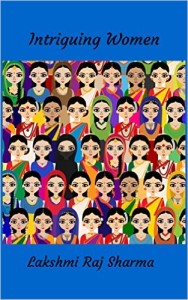 https://www.amazon.com/Intriguing-Women-Lakshmi-Raj-Sharma-ebook/dp/B01CBJCUNC/ref=tmm_kin_swatch_0?_encoding=UTF8&qid=1485743680&sr=8-1